Affiliate Disclosure: We might earn a small affiliate commission when you buy through links on our site
Drones are fast becoming a rage among the masses. Along with the budget-friendly drones, the high-end drones also seem to have a steady demand. Precisely, these drones can be utilized for the defense personnel, the filmmakers, the agriculturists, and the ones for mapping.
Today, we will explore some of the highly-expensive drones and introduce you to their breathtaking capabilities. So, here goes the list.
The most expensive drones (Ranked on Price):
| | | | | | | | |
| --- | --- | --- | --- | --- | --- | --- | --- |
| Serial No. | Image | Name | Camera | Range | Time | Weight | Check Best Price |
| 1 | | Ehang 184 | NA | 20-40 miles | 23 min | 440lbs | Check Best Price |
| 2 | | Augumented Aerigon Drone + Phantom Flex 4K | 4K | 1000m | 7-15 min | 14.1lbs | Check Best Price |
| 3 | | Scorpion 3 Hoverbike | NA | 13 miles | 20-40 min | 229lbs | Check Best Price |
| 4 | | Xactsense Titan | NA | 10000m | 30 min | 2.20lbs | Check Best Price |
| 5 | | AEE F100 | Camera can be attached | 12.4 miles | 60 min | 13.22lbs | Check Best Price |
| 6 | | Airborne Drones Vanguard | 4K | 22 miles | 94min | 20.9lbs | Check Best Price |
| 7 | | SCI. Aero Cyberquad | 4K | 500m | 25 min | 1.76 lbs | Check Best Price |
| 8 | | Xactsense Max-8 | NA | 9.9 miles | 35 min | 10lbs | Check Best Price |
| 9 | | FreeFly Systems- Alta 8 | 8K | 2 miles | 15min | 20lbs | Check Best Price |
| 10 | | DJI Inspire 2 | 5.2K | 4.3 miles | 23 min | 7.58lbs | Check Best Price |
1. Ehang 184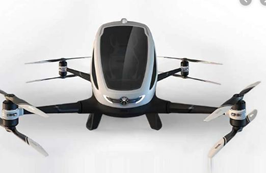 The Chinese startup company has come up with the world's first passenger drone. As you can understand, this drone packs quite a punch. It has eight electric motors that power the propeller in efficiently carrying the load of an individual. Interestingly, the drone is devoid of the services of a pilot.
The manufacturer has ambitious plans for the future. Features such as AC, futuristic chairs, and a host of other features will be present in the models to come. It takes a couple of hours to charge the batteries, and you are all set to travel long distances around 20-40 minutes for around 23 minutes. You can also use the drone for high altitudes, as it has a ceiling height of 11,000 ft.
You do not require a license for flying the drone, as it does not require any pilot. It can take off and land automatically, just likes the other drones. Is it safe, you may ask? So far, the results of test flights have been somewhat encouraging.
Pros
It can achieve speeds of up to 2 to 6 mph.
It is capable of carrying a load up to 100 kg, including baggage.
It does not require any license to fly.
Cons
The drone is massively expensive.
Flight time could have been better.
2. Augmented Aerigon Drone + Phantom Flex 4K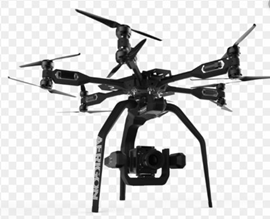 Phantom Flex 4K as the name suggests, offers the best video quality. Ideally, this drone is for those who do not want to compromise on the costs when it comes to selecting the best drone camera. The colossal camera promises some mind-blowing footage, and filmmakers would love to use it.
The drone offers incredible stability and power. Shooting 4K movies at 100 Frames per second gives you far-fetched results. It comes with six batteries and requires 45 minutes to charge them individually. The flying time and range are, however, disappointing; it is barely 7-15 minutes, that too depending on the load. The flight range is merely 1000m.
Pros
Astounding quality video footage.
The bulky drone carries the camera quickly.
Cons
Very expensive. Inferior flight time.
3. Scorpion 3 Hoverbike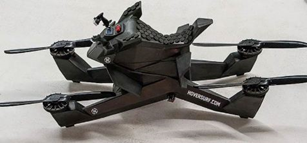 Is it ever imagined, flying your bike? Scorpion 3 Hoverbike makes this possible. The blend of a motorbike with a drone will make you drool instantly. The drone is capable of carrying heavy payloads up to 229lbs of weight and can clock decent speeds.
You may find it a dilemma, whether to call it a bike or a drone. Its capability of traversing 13 miles and that for over 20-40 minutes makes it adorable among those who can afford to buy it. What more! You can customize the way you charge it. You can recharge the drone for well over three hours, or you can also decide to swap the batteries within a minute.
Scorpion 3 earns the reputation of providing a stable ride even in the most diverse conditions. Not even for a moment will the rider feel uncomfortable, given that it has a host of control features. The drone can be beneficial for police, for monitoring places having maximum traffic during peak hours.
Pros
It can carry the right amount of weight.
No need for a license for operating it.
It can strike exceptional speeds while in transit.
Cons
The high price
The flying time could have been better.
4. Xactsense Titan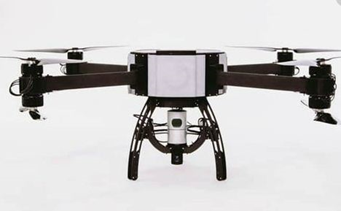 The drone we are talking about boasts of advanced features. Notably, its autopilot feature deserves mention. Though it is not equipped to carry much heavier payloads, at around 55lbs, you cannot write it off too. Its flying range of 10Km and the flying time of approximately half-an-hour is also impressive.
Ideally, this drone is suitable for specific jobs like mapping, scouting, disaster relief, and much more. As already mentioned, in the feature department, the drone has the most sophisticated sensors, and it is the best option for mapping selected areas.
As you can understand, this drone is mainly useful for official purposes; it does perform these tasks in the best manner.
Pros
The drone flies without the help of any pilot.
It is capable of carrying a decent amount of load.
Cons
The high price.
The flight time could have been better.
5. AEE F100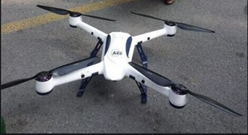 AEE F100 has been designed for law enforcement and military use. There is the provision of attaching specialized infrared cameras to this drone. The cameras boast of features like 20x zooming and 3D pictures. Furthermore, its navigation light can extend up to 1km.
The ability of the drone of reaching altitudes of up to 7,000 meters with a speed of 100kmph makes it a rather useful device for the defense personnel. Once in the air, it can travel up to 20Km, and be there for an hour. Both these are impressive numbers for a drone. If required, the drone can rotate 0-105 degrees both upwards and downwards.
For authorities, which require keeping an eye on the people, traffic, and buildings, the AEE F100 can be their best choice.
Pros
The camera has 16 million pixels.
Incredible flying time.
It can reach an altitude of 7000 meters.
Cons
The high price.
6. Airborne Drones Vanguard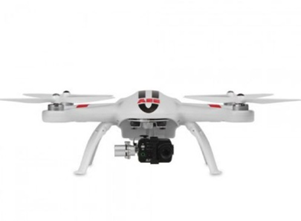 Airborne has been designing drones for quite some now. Vanguard, their latest brainchild, packs all the features that you would prefer in modern drones. It is a breeze to operate the drone, yet it works incredibly well in the field of surveillance and security.
Its dual camera that features a thermal detection mode is much suited for the urban areas. It can shoot 4K quality videos and stays for can remain airborne for a whopping 94 minutes. Additionally, it can reach speeds up to 800 meters per minute and can climb altitudes of 4500m.
The dual antenna system lets it capture the best quality images, even in the most adverse weather conditions.
Pros
It has a 10x optical zoom.
It shoots 4K videos.
The flight time of 94 minutes is rare for drones.
Cons
The drone is very bulky. The high price.
7. SCI. Aero Cyberquad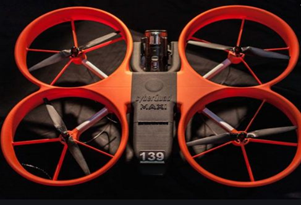 SCI. Aero Cyberquad is designated for industrial purposes. You can count on it for the best surveys and scanning agricultural sectors, where the other tools seem to have limitations. Its multispectral camera, the ability to geotag in particular, is capable of providing the best feedback of selected areas.
The 25 minutes flying time and the range of 500m seems to be the best for surveying works. Its price makes it unaffordable for the owners of smaller farms, who cannot spare the budget for such an expensive drone.
The drone is also the right choice for conducting stealth operations. It is possible to reduce the noise of the rotor. The robust drone is easy to maneuver and includes inertial sensors along with high-frequency speed controllers.
Pros
The flight time of 25 mins.
The ease of maneuvering the drone.
Cons
It is expensive.
8. Xactsense Max-8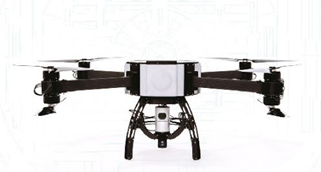 Here is another expensive drone in our list that is suitable surveying and mapping lands. Max-8 will let you take 3D pictures of the area. Like one of the other drones we discussed earlier, the drone can attach more equipment to itself.
After mapping the intended area, the drone can hover around for about 35 minutes, and intimate the owner whenever necessary. Here, in this drone, the photo mapping package makes it more noteworthy. The weight of the drone makes it easy to carry and transport from one place to the other.
Though for once, it seems, the drone is well-suited for the professional photographers, most of them would find it difficult to own one,
Pros
It has an impressive flight time.
The ability of the drone to capture 3D images.
Cons
The price could have been lower.
9. FreeFly Systems- Alta 8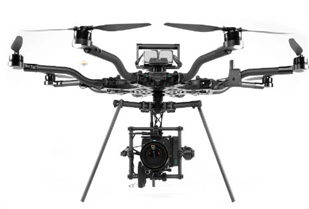 Again, here is a manufacturer who has been experimenting and launching various drones in the arena and surpassing its predecessor, the new avatar of Alta sports an 8-rotor. Visibly larger than its older versions, the drone can carry a substantial payload.
Similarly, you do not often get a drone having an 8K camera. Alta 8 can also lift weights to 11.9 Kgs. The silent drive motor controls should satisfy everyone. Illustrating the robustness of the drone, its capacity to offer stability even in rough weather conditions, speaks for its accuracy.
The drone is not water-resistant. The best part is, the inclusion of a plastic enclosure engulfs the power board and flight control. Remember to use it carefully during rainy seasons.
Pros
It features a dual battery system.
The drone is extremely stable in all weather conditions.
Cons
Unlike other uncrewed aerial vehicles (UAV), flying the drone requires certification.
10. DJI Inspire 2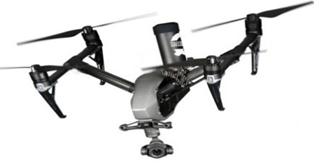 DJI seems to be everywhere. It already enjoys a firm position in the affordable drones market, and now it is desperate to leave its mark on the more expensive models. With loads of features under the hood, like avoidance obstacle, dual cameras, and dual batteries makes it hard to ignore.
DJI Inspire 2 looks no different than its predecessor. However, the company has left no stones unturned in making one of the toughest drones. The flying time is around 23 min which at times can extend to 25 min, and has a good flight range.
It can click jaw-dropping image quality, thanks to the high-end cameras. The drone perfectly suits the work of filmmakers and even the over-enthusiastic drone lovers. Since its price is not very high compared to all the others featured in this category, many individuals can use it for their own requirements. Lastly, this drone gives you the convenience of recording footage in both SSD and microSD cards.
Pros
Dual operator control, and dual camera.
The camera can be rotated up to 360 degrees.
The incredible 5.2K camera is capable of recording high-quality footage.
Cons
An SSD card is mandatory for recording videos.
The license key for the 5.2K camera can burn a hole in the pocket.