Drones continue to attract the interest of people from all walks of life. In a short period, drones seem all set to be indispensable for us. Given that the broad spectrum of models available right now, a novice drone enthusiast will not find it easy to pick up the perfect drone.
Entry-level drones are the best choice for beginners. In this guide, we aim to cut short your work, as we will introduce you to the seven best entry-level drones. We have made sure the products on this list fit the bill perfectly. Honestly, who would like to witness their favorite drones getting damaged due to a crash? Things could become worse if you invested in an expensive drone. From the list below, each of these drones promises to hone your piloting skills. So, without further delay, let us get going.Top 7 Best Entry Level Drones
1. Altair Aerial 818 Hornet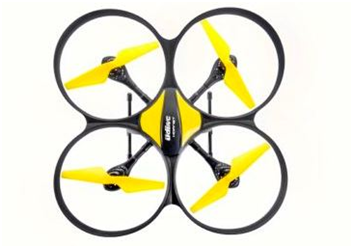 Aerial 818 Hornet is the best drone, regardless of your skill level. It offers everything; you would expect to brush up your skills. The manufacturer has given special attention to the beginners. Thus the propeller guards are thicker along with more full landing gears.
The flight time of 13-15 minutes should suit perfectly for the beginners, and you can increase it further by using the spare batteries that come with it. When you have ample time in your hand, you can make use of the drone camera to shoot videos and pictures. The 720p wide-angle camera does take decent shots.
Simultaneously, it includes various user-friendly features like headless mode, multiple flight modes, and altitude hold. The combination of these features will gradually make you learn the art of flying a drone. Later on, you can try the drones with more advanced features. You need not break a sweat if your inexperienced hands make the drone crash. It is sturdy enough to resist those blows.
Moreover, the Hornet is robust and very stable when on air. At this price, you will not find another drone that offers such a good camera. So, the Altair 818 Hornet is a must-try for the beginners. You can even let your kids explore this UAV for improving their learning skills.
Pros
Robust and sturdy.
720p HD camera takes good quality pictures.
Three-speed levels.
It operates well even in windy conditions.
Cons
The camera could have been even better.
The trim and skill level are at the back.
Too big to use indoors.
Check Altair Aerial 818 Hornet at Amazon
2. UDI U818A HD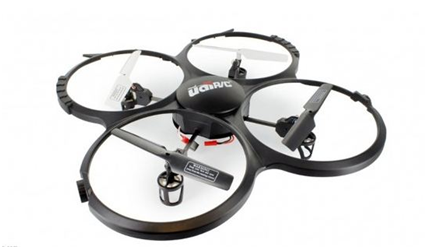 Here is another affordable camera drone for the beginners. It does not require any assembly, and you are ready to fly as soon as you unpack it. You might wish the flight time and range could have been better. However, considering its low price, you get what you pay for. Despite being tagged as a "Low-end" drone, it boasts of some useful features.
The propeller protectors, for example, make it very robust. Additionally, it also comes with features like 6-axis gyroscope stability, HD camera, and a return function. You can also fly it at night, as it comes with detector lights. While shooting, you can enable the live cam mode using its Wi-Fi-enabled feature.
The remote control is responsive and can operate from a distance of more than 30m. The picture and video quality will surprise you. Even the kids can run the drone without any problems. The perfect design of this drone makes sure it does not cause any harm to us when it is in operation.
Understandably, beginners who find it hard to control the drone will end up crashing it. The robustness of the drone comes to the rescue, and it can successfully withstand such mishaps. You can shoot better quality images and videos by practicing regularly. Without a doubt, this can be an excellent choice for novices.
Pros
Ideal for amateur pilots.
Damage-free propellers.
Exceedingly good quality images and videos.
Robust and durable.
Cons
The manual lacks a proper description of the controller.
During heavy winds, it can drift.
3. DBPOWER MJX X400W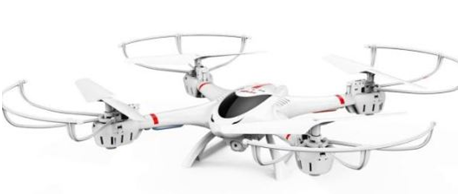 As a drone enthusiast, you will love the DBPOWER MJX X400W. It is one of those few drones that cost less than a hundred bucks and yet boasts of features like headless mode, VR 3D headset, remote control features, and much more. Additional features like 3D split-screen display, FPV real-time transmission, and the one-key 3D Roll are the icing on the cake.
It does not require any assembly and is ready-to-fly after unpacking. Appearance-wise, it will instantly appeal, and you will recollect those fascinating Sci-Fi movies, where you have seen such models. The drone comes with LED lights, making it convenient to fly at night. The durable design can resist crashes, yet we recommend practicing flying it indoors at first.
This drone is designated for drone hobbyists. Thus the camera quality is not of the highest quality. The fixed camera offers medium resolution and can shoot videos at 30fps. Nevertheless, its 6-axis gyroscope stabilization will let you shoot decent shots. The flight time isn't all that great either. So, you must invest in a few more batteries for maximizing the fun.
The flight performance will delight the beginners. It successfully performs 3D spins and even swings back and forth. The one-key 3D Roll feature makes the spinning all the more enthralling. Furthermore, its headless mode feature lets you decide its direction via the remote controller. As already mentioned, the VR 3D headset will give you goosebumps when you experience the aerial views. Try it out, and you will not be disappointed.
Pros
Extremely durable.
Great agility due to its headless mode feature.
The camera takes good quality pictures in stable environments,
The 3D VR headset feature is a game-changer.
Cons
Unable to fly correctly in strong winds.
Connectivity is not very good.

Check DBPOWER MJX X400W at Amazon
4. Hubsan X4 H107L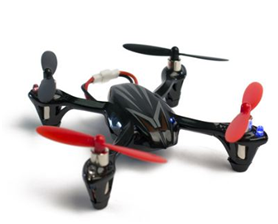 Hubsan X4 is one of the top recommendations for beginners. Firstly, you can avail of this at a budget-friendly price, and secondly, you will seldom find a more durable drone in this price range. It comes with all the necessary items like the transmitter, spare propellers, propeller guards, chargers, and batteries. Do not go by its size; it delivers exceptionally well.
The flight time isn't that great, around 7 minutes. However, the time justifies the price you pay for the product. You cannot compare its performance with the premium drones. The drone is devoid of a camera, but it promises you a fun time when you fly it outdoors. As soon as the batteries drain, the LED indicator starts blinking, and you can bring it back.
It also offers two flight modes, advanced and beginner. The latter can be the right learning curve for beginners. After you have tested it for a while, explore the advanced mode for making random and rapid moves with the drone. If you are a diehard fan of aerial photography, you can attempt attaching a lightweight camera to it.
It is best to fly it outdoors when the weather is clear and free of gusty winds. It has a solid frame., and that should help it sustain the accidental falls. The controller works well, and the flight customization options can help you to learn about operating a drone.
Pros
The price is affordable
A durable frame safeguards it from accidental falls.
It has a well-balanced body.
Cons
The absence of an onboard camera.
The transmission range is limited.
It does not have a return to home feature.

Check Hubsan X4 H107L at Amazon
5. Force1 F100 Ghost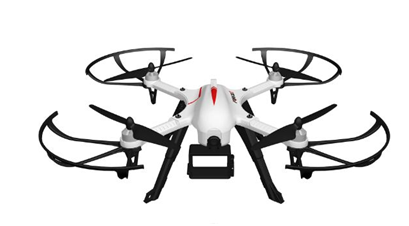 Say hello to this "Friendly Ghost," as it offers hands-on experience of flying for the beginners. It includes some incredible features like noiseless flight, brushless motors, provision to mount a camera, and much more. The flight time of 19 minutes will make every drone lover elated. Thanks to its double LIPO battery, you can shoot and enable a spectacular stunt show with the drone for a prolonged time.
Flying the drone is a breeze. All of us have played a video game, isn't it? You require the same knowledge for operating the drone. While maneuvering the drone via the controller, you will surely remember those video game playing days. It does not take long figuring out the way you should operate the buttons on it. The manual has all the details on the assembling procedure of the drone. Thus, you can make it ready in a jiffy.
The sturdy drone ensures lesser maintenance while you fly it for as much as you can. It comes with four bumper guards that offer the extra layer of protection against crashes. The drone lacks a gimbal. So, you cannot expect high-quality pictures and videos. However, it does a good job when you shoot with it.
Force 1 F100 Ghost can resist strong winds. Yet, we recommend using it on a clear day. Additionally, choose a flying spot that does not have many trees. It has the capability of reaching heights that can lead it to tangle with these trees. With an impressive flight range of 500m, you will enjoy every moment you spend with this drone.
Pros
Extremely affordable.
It comes with four extra propellers.
Quiet flight.
You can work with multiple cameras.
It can perform 360-degree rolls.
The remote control is smooth and responsive.
Cons
Replacement parts are not readily available.
It does not work with GoPro models.
Lacks the first-person flight feature.
Check Force1 F100 Ghost at Amazon
6. Cheerson CX-10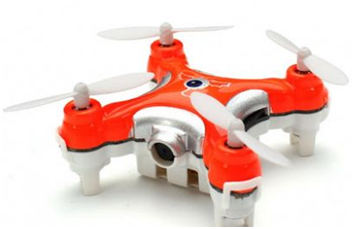 Cheerson CX-10 is best described as"pocket-sized dynamite." We do not blame you if its size makes you think; it is a toy drone. It is a micro-drone and is one of the front runners in helping you enhance the flying skills. Seriously, you would have never expected to get a drone under 20 dollars.
It should not take you long to get the drone up and ready. Initially, the drone tends to drift on either side, but it becomes steady within seconds. We tested the quadcopter indoors, and we were astounded to note, even after ramming it against the walls, it did not crash. As you can expect, flying such a small-sized drone can be a challenge for it.
There were more surprises in store for us. Honestly, we did not expect Cheerson CX-10 would be so quiet during flight. The 6-axis gyro helps it to remain stable, and it can also perform 360 degrees rolls with precision. It hardly takes a little over 30 minutes to charge the batteries, so that it should be good to fly for another 4 minutes.
The simplicity and easiness of the drone, along with its cute look, will make you appreciate it. As mentioned already, it has pretty cool features in store for maximizing your drone flying experience. Remember to buy an extra set of batteries if you wish to prolong the flying duration. Furthermore, it is also a good idea to purchase propeller blades, as the existing ones will become vulnerable after a few flights. We recommend this mini-drone for everyone.
Pros
Unbeatable price.
Easy to use and maneuver.
It can perform stunts.
Resistant to medium crashes.
Very versatile.
Cons
Lacks a camera.
It cannot be used in windy conditions.
No propeller guard.
Blades break after some time.

Check Cheerson CX-10 at Amazon
7. DJI Spark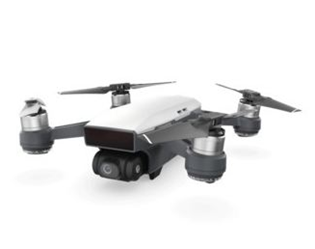 Yes, the pioneer of quadcopters, DJI, also has an entry-level drone. DJI Spark is the most expensive of the lot, among all the other models we reviewed so far. Any drone enthusiast who is looking to pursue a career as a drone photographer will find this model very useful.
It packs all the features any aerial photographer would love to see. It can shoot videos in HD and includes a 2-axis stabilizer on the camera. With incredible flight time and flight range, there is every reason; you would want to acquire it. Spark even has a gesture-controlled feature during flight. So, you can signal the drone to fly further or to click pictures, and it will do it efficiently.
You can launch the drone by holding it on the palm. It can attain ascent speeds of 9.8 feet per second, and reach maximum speeds of 31 miles per hour. Spark is also weather-resistant, and you can use it even in hot and humid conditions. The inclusion of sensors like GPS and GLONASS lets it establish communication with the base efficiently. Additionally, the 3D infrared sensing camera can avoid obstacles too.
You can expect shooting crisp videos and pictures. The sensors will let you capture still images in 12MP and videos at 1080p at 30fps. The wide array of software controls that is available in its companion app will offer you all the thrills. Before you venture towards the more expensive and advanced drone, let DJI Spark remain your companion.
Pros
Small and lightweight.
Supports gesture controls for ease of use.
Capable of taking pictures on its own.
GPS stabilization.
Autonomous flight modes.
Gimbal support and a perfect camera.
Cons
Battery life is a tad disappointing.
Lacks high frame rate support.
The flight and hover time are limited.

Check DJI Spark at Amazon